As a Kelley Blue Book® Instant Cash Offer participating dealer, we are able to provide our customers a simple, transparent process to get an actual cash offer for their car. If you are interested in selling your car or trading it in towards a new vehicle, we would love to take a look at it. To get started, go to the Kelley Blue Book® Instant Cash Offer website, and enter your vehicle information. Once completed, a representative from our company will get in touch with you to schedule a time to bring in your vehicle.
How Does Instant Cash Offer Work?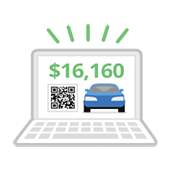 Get the Instant Cash Offer
Find out what you can get for your car today. Offers are good for 7 days (not counting Sundays).